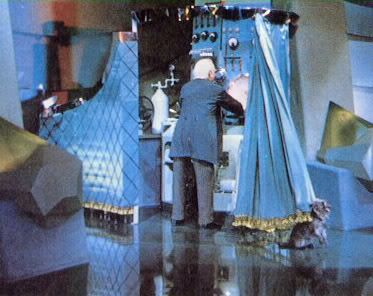 In the classic movie, The Wizard of Oz, Dorothy and the group finally arrive at Oz only to learn that the great Wizard is only a man running controls behind a curtain. It's not any sort of magic afterall.
When companies sell consulting services, there's a similar dynamic; they promise lots of great end results but really, what's going on behind the curtain? What do they do that's different from the rest?
Buyers need to understand how a consultant brings about specific results and what sets that one apart from others.
What goes on behind-the-scenes and what was the experience like?
And when everyone is making the same promises, how do buyers decide on one firm over another?
Customer case studies – featuring engagements with real customers – help set consultants apart from the competition, but ONLY IF they contain certain messages.
The goal is to give buyers insight into what they might experience in working with a particular consultant.
Let's look at three critical pieces of any consulting case study:
Expertise
Not all consultants are created equally.
What does the consultant bring in terms of knowledge, skills and experience that will create a better outcome for the customer?
You'll want to touch on expertise at different points in the story. For instance, you might mention the specific expertise that led the buyer to choose this consultant over another, and then later, how that expertise came into play during the consulting engagement.
Approach
Most consultants approach engagements a bit differently. You'll want to highlight the unique approach that the consultant takes in working with a specific customer.
How specifically did the consultant scope out the customer's needs, and then deliver services? How long was the engagement and who all was involved?
The Outcome
Also essential, show the specific outcomes of working with the consultant – in as detailed a manner as possible.
If a business is evaluating one consultant over another, strong specific results will inevitably tip the buyer toward that consultant versus one without strong results. Consulting engagements are an investment, and buyers need to see how the investment will pay off.
Ultimately, buyers need to understand what's going on behind-the-scenes so they can picture themselves working with a consultant – and feel confident in the buying decision.
What has worked for you in consulting case studies?

A small software company recently ran an experiment...
The company, which had been requiring registration to download its customer case studies, decided to unlock those stories on their website. Site visitors could read or download stories freely, without having to provide any information.
The results were pretty shocking.
In just one week, the company reported that downloads of its case studies were three times higher than the previous four months combined! Clearly, people had not viewed the stories before because they simply didn't want to take the time to register or felt frustrated with having to provide their contact information.
When you invest your time, money and your customer's time in creating these valuable customer stories, make sure you're maximizing the exposure on them.
So what content should be "curtained?"
It's a tough balance that marketers face, giving away some content freely and requiring registration to access other things. You're balancing drawing people to your content-rich website with trying to capture names as lead sources.
But do case studies really belong in the category of locked content?
Customer stories, while educational, are still promotional at heart. You're featuring a customer's success with your products and services. They fall more into the realm of content to give away, as you would product datasheets and brochures.
Meanwhile, white papers, events, webinars and demos often require more of a time investment from you and from your prospective customer. Generally, these are the items you'll offer in exchange for the prospective customer's information.
In fact, this particular company chose to turn to white papers and webinars as a better source of capturing names, which the sales team hasn't contested whatsoever. Afterall, if only a handful of people registered to access case studies then that wasn't much of a lead source anyway.
The Search Engine Effect
Written customer case studies and success stories can be a major contributor to search engine rankings for a company's website. They naturally contain many of the keywords and phrases that prospects might use to search.
If you lock your content behind required registration, you effectively give up that rich source of keyword data. Don't miss out!
The Social Media Factor
Finally, if you're not sharing your customer stories on social media sites like Twitter and Facebook, you should be. Increasingly, people are mixing their business and personal into a single stream on Twitter and Facebook, and customer stories are of high interest.
What happens when your fans or followers take a case study link you shared from Twitter or Facebook and hit a closed door? It's incongruent with the way social media sharing flows.
What's your experience with requring registration for customer stories? Great lead source or a barrier to customer engagement?

"I could sell this for you."
That line, coming straight from the mouth of a happy customer, is music to a company's ears. Not only is the customer satisfied with the solution, but the customer has become a true evangelist.
I heard this just a couple of weeks ago while interviewing an IT manager at a hospital about their new help desk system. He was genuinely a fan, and in the heat of talking about what he loves about the software, added the line above. He went on to give me powerful quote after powerful quote.
If only all customer interviewees could be so pumped. That's the kind of customer you want for your stories. The interviewee's enthusiasm should reach out and grab the audience from the customer case study or success story.
So how do you find these ideal evangelists for your stories?
Here are a few tips:
1. The customer shares his excitement with your sales and/or account reps. As the front line contacts with customers, sales and account reps often hear the customer's expressions of satisfaction first hand.
Remind reps that, for customer stories, you're on the lookout for customers that are genuinely enthusiastic - beyond just satisfied.
2. Truly committed customers refer your company to peers. If customers are already telling their peers at other companies about your cool new solution, then you know you have an evangelist on your hands.
Do what you can to maximize that relationship by keeping the customer happy and engaging him/her in marketing activities.
3. Evangelists are relatively talkative on pre-qualification interviews. Spend maybe 15 minutes talking to a potential case study candidate to scope out the customer's story - and the contact's personality - before deciding whether to feature the customer in a full story.
Is the contact relatively talkative, if not effusive, about the solution? Or, does the contact answer reluctantly in as few words as possible? The former option will result in the best quotes and information for your customer stories.
Look for personalities, not just strong stories.
4. The customer says yes to more than just a case study. When discussing featuring a customer in a story, don't just ask for the story.
If the customer agrees to a story, find out what else the customer is willing and able to do: a press release, speaking at an industry event, or taking one-on-one calls from a prospective customer.
Just make sure you note the customer's preferences and don't go beyond that. Otherwise your evangelist could start to sour from overuse.
If given various customers to choose from, always go with the one that "could sell this for you" and then let that customer do the talking for you in a story. It's much more credible coming from a customer than from your own sales reps.